Health Services
Therap's application provides improved support for Persons with Disabilities (PWDs) with better documentation for Health Services through different tools such as Health Tracking, Medication Administration Records and Nursing/Progress Notes.
Health Records
Therap's Health Tracking module allows users to efficiently track different types of health data relating to an individual and create detailed and monthly reports. It gives a flexible way to record and follow up on medical issues including Appointments, Seizures, Blood Glucose, Height/Weight, Health Care Reports and many more.
Medication Administration Records
The Medication Administration Records (MAR) module provides users with a tool to effectively and easily record the medications administered to an Individual. With MAR, users can schedule and add comments to medications and treatment records, and export MAR reports with current medications and treatments on a monthly grid.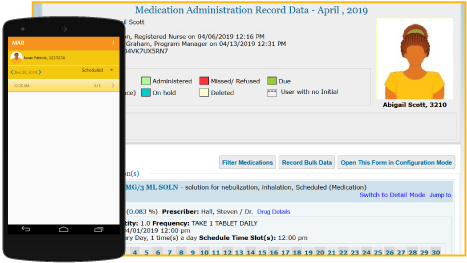 Nursing/ Progress Notes
T-Logs are an alternative to your logbooks and the daily notes that you share with other staff members at your agency. You may write nursing/ progress notes for specific individuals or for a particular program. These logs are automatically shared with co-workers based on their caseload of individuals. Updates made to T-Logs can be seen from Update History.